November – EOM Ride Out
November 27, 2022 @ 8:00 am

-

4:00 pm

UTC+0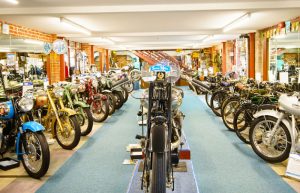 And now for something different. This months ride is a round trip to the beautiful New Forest and the Sammy Miller Motorcycle Museum, courtesy of David Buttery.
---
RIDE DETAILS
Sunday 27th November   
RIDE DETAILS:Meeting Point Location:Billys on the Road Cafe, Stane St, Billingshurst RH14 9AE.
08:15am for a pre-ride briefing at 08:45am and departure at 09:00am.   Billy's opens from 8am on Sundays for those wanting food.
Return anticipated around 3:30/4pm, finishing at McDonalds, Buck Barn (A24/A272).
Closest Petrol Station:BP just north up the road at Horsham Rd, Billingshurst RH14 9AL; Shell just south down the road on the roundabout –  Stane St, Billingshurst RH14 9LY
Pre-ride coffee/tea/breakfast:Billys on the Road
Lunch stop:Sammy Miller Motorcycle Museum and Cafe (Bashley Cross Rd, New Milton, BH25 5SZ)
Ride Description:A mix of mainly faster A's and B's down to the museum and back, avoiding single track roads and the motorway. It's a fairly long ride of approximately 180 miles, split roughly 50:50 either side of lunch.  So please come ready.
Fuel up before the start.  A "pause" at a petrol station just after lunch is included for those who might need it.  The end of the ride will be less than 100 miles from that point.
Planning to get down to the museum for 11:30-12:00.  A stop of ~1.5 hours is planned at the museum and cafe – to allow both lunch and a quick visit to the museum.  Access to the museum will be available at a reduced price of £9 (vs normal £12.50). Returning to McDonalds at Buck Barn (A272/A24) for approx 3:30pm/4:00pm.
Note – sunset in late November is around 4pm.
---
** New and Recent members – remember please you will need to have had your Initial Assessment Ride with an Instructor to attend this and any other club riding activities
** All members please carry your membership card on this and all club activities
---
REGISTRATION
There are no restrictions on how many can join the ride, but we ask that you please register by emailing the ride leader.  See details below.
---
Weather
As with all Group Ride Outs, please note that if the overnight temperature is forecast to be below 3C degrees at the ride start point, the ride out will be cancelled automatically.   There will not normally be a second notification if this is the case.
Back-Marker System
One of the riders will need to Back-Mark so any volunteer for this please advise the ride leader when you register for the ride.  If you have an orange Hi-Viz please bring it with you, or one may be provided on the day, or dependant on the size of the group an alternative marker may be agreed.
Please make sure you are fully conversant with the rules of the "BACK-MARKER SYSTEM".  Following these correctly is vital to the smooth running of the day and reduces the risk of losing someone or everyone.  Details of the BM system are on our southernriders.org  website.   If you're unsure on the day, ask one of the attending Ride Leader. They will be more than happy to clarify any issues you have.
Hi-Viz
If you wear hi-viz, please ensure it is not Orange as this is reserved for the 'back-marker' during our ride-outs.  We appreciate you may normally wear an orange hi-viz whilst riding. However, some find it confusing when in the middle of the group to see two or more riders with the orange hi-viz.  So, in an effort to avoid confusion and markers leaving their post prematurely ONLY the back-marker is to wear orange hi-viz.   Thank you
---