Ride School is open to all members at zero cost.  This event is held over two Sundays in the Spring and is intended to reinforce 'The System' and Motorcycle Roadcraft whilst hopefully being insightful and informative in an informal jovial couple of days.
Ever had to react to a situation suddenly? You'll learn the details of the renowned Police System to ensure that you always have the breathing space to tackle the hazards every biker faces. The System was developed to reduce Police rider accidents in pursuit riding situations; before the System, the accident rate of police drivers and riders was one every 7,000 miles. Since the introduction of "the System" that dropped to one every 70,000 miles.
This is the first session of two.  Details for Part 2 can be viewed here 
Welcome from 9am for a prompt start at 9:30am
Agenda
The System
Motorways and multi-lane carriage ways
Bends and Positioning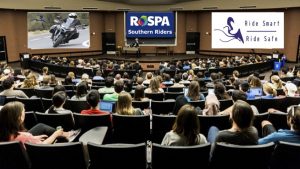 Motorways, Bends and Positioning – applying the system of motorcycle control.
How safely are you keeping away from likely hazards? How far ahead can you spot what's going on? Positioning directly affects both. In week 1, you'll learn how to use your positioning to be more stable when cornering, ride safer and see further ahead. You will also learn about 'observation links' and other tricks of the trade. How stable is your bike when cornering?
We are also expecting a quest speaker – more details to follow.
Light Lunch and Refreshments are provided